1. When Emilia Clarke first met her on-screen husband Jason Momoa, he screamed "WIFEY!", ran across the hall, and rugby-tackled her to the floor.
2. Charles Dance found Lord Tywin's treatment of his son appalling. In fact, so appalling that Dance kept apologizing to Dinklage between takes.
3. Peter Dinklage, who portrays Tyrion Lannister in the show, appears in more episodes than any other cast member. Dinklage is in total of 61 out of 67 episodes.
4. Brazilian scientists have discovered a new species of slug, and they named it "Tritonia Khaleesi" as an homage to Khalessi Daenerys Targaryen.
5. The Iron Throne is for sale. The series' creators are selling official replicas of the Iron Throne for 30 thousand dollars. The item is 2 meters high and weighs 59 kilos.
6. Myrcella and Tomen, the youngest of Cersei Lannister's children, are a couple in real life. 
7. Iwan Rheon, the actor who played the much-loathed Ramsay Bolton, had previously been up for a different role before he got that part: Jon Snow. Rheon has said it was down to him and Kit Harrington for the part before the showrunners decided on Harrington.
8. There are only five episodes in the entire series thus far in which nobody dies on screen, and only two of those — "The Bear and the Maiden Fair" in Season 3 and "Blood of My Blood" in Season 6 — don't feature any deaths on screen or off. That's remarkable considering the former is the episode in which Brienne fought a bear.
9. While filming season 7 in Iceland, temperatures sometimes dropped down to -20°F (-28°C). Much of the cast had inadequate thermal underwear. Norwegian actor Kristofer Hivju, who plays Tormund Giantsbane, made sure that all of the cast members got merino wool underwear from Norwegian clothing company Devold.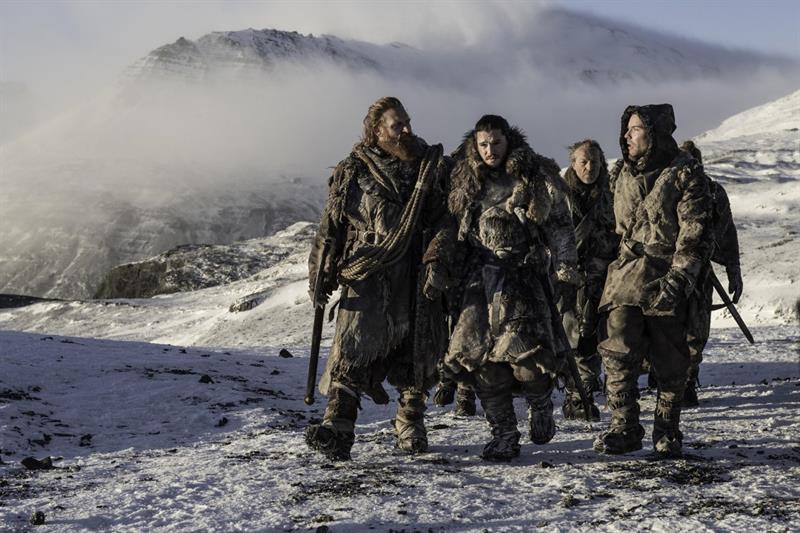 10. Although Sansa's direwolf Lady saw an untimely end in season 1, the dog who played the well-behaved beast survived the ordeal. Sophie Turner, the actress who plays Sansa, asked her mom to adopt the pooch after the filming was done and before she knew it, the Mahlek Northern Inuit pup named Zunni found a loving home with the Turner family. While Lady's life was short, which in unsurprising considering the show we're talking about, luckily, Zunni had plenty of time to enjoy her doggy days until her alleged passing a year ago.
11. Harry Lloyd, the actor who played Viserys, Daenerys's brother, is a direct descendant of writer Charles Dickens.